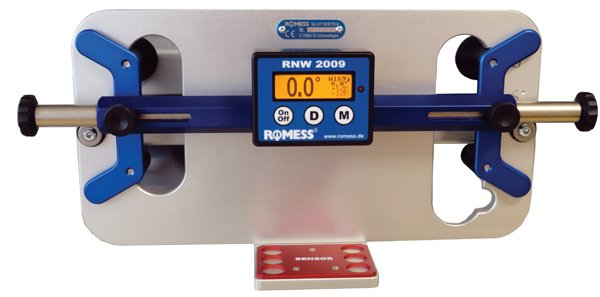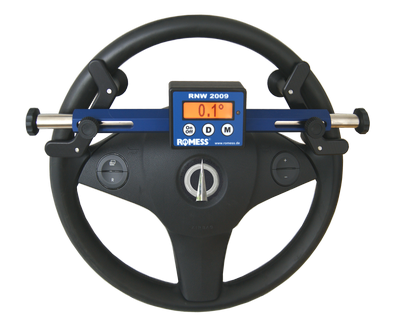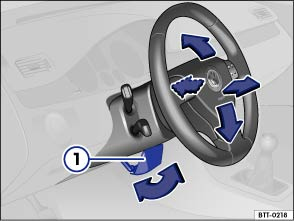 STEERING WHEEL ADJUSTING BALANCE RNW 2009
The steering-wheel adjusting balance with electronic inclination RNW 2009 is fitted in the interior of the steering-wheel with a bearing device protected by utility patent with 4 usage bolts in the interior of the steering-wheel according to its diameter. Two strong springs ensure the firm hold of the steering-wheel balance in the steering wheel. The actual angle position of the steering wheel is displayed immediately.
Description
The most effective tool with unprecedented accuracy for wheel alignment is the Romess steering wheel level RNW 2009 with electronic inclination gauge.
The enhanced RNW 2009-S-F transmits the data via wireless to a Windows based wheel alignment computer.N
Technical Data :
Angle measuring range: ±30° (optional ±80°)
Accuracy in the range 0° to 30°: ±0.1°
Automatic zero point
Inclination of steering-wheel max. 15°
Keys for measuring values storage and attenuation of the indication values
USB interface for data Transfer and for software-update
Nominal temperature range: +10° C to +45° C
Voltage supply: built in lithium-ionic-accus 910 mAh fast charging module.
Charging time about 4 hours., operating time with display background illumination about 20 hours
Scope of delivery :
Device with case, USB-interface, charging device
Order Numbers
20090-10 (RNW 2009)
20090-S-F (RNW 2009 with WLAN)