MOBILE VEHICLE INSPECTION
As one of the facilities used to carry out testing of motorized vehicles that can move from one location to another in serving the community, it is mandatory to test those far from the location of the Static Vehicle Inspection Station. In addition, this unit can also function as a means of inspecting motorized vehicles on the road in the framework of supervision.
From time to time we improve the design of this Mobile Test Unit so that both technical testing and test administration work can be carried out by users comfortably. And this design has received a recommendation from the Directorate General of Transportation
Car Service Unit and Roadworthiness Testing, we work with the Carrosserie company to provide the best design and choice to Workshops and the Automotive Industry for Mobile Roadworthiness Tests.
We will be ready to assist in the Design and Procurement of the Unit. Provide full support to partners in providing goods and services procurement services in an agency, in the form of training, commissioning, warranty, after sales services for the products we trade.
Features :
Selection of 4 or more wheeled vehicles
Silent generator
Compressor
Air Conditioner
LED room lighting
Tables and chairs
Storage cabinets
Vehicle side there is an Awning
Yellow Light Bars
Portable Test Equipment & Toolkits
Radio and Horn, etc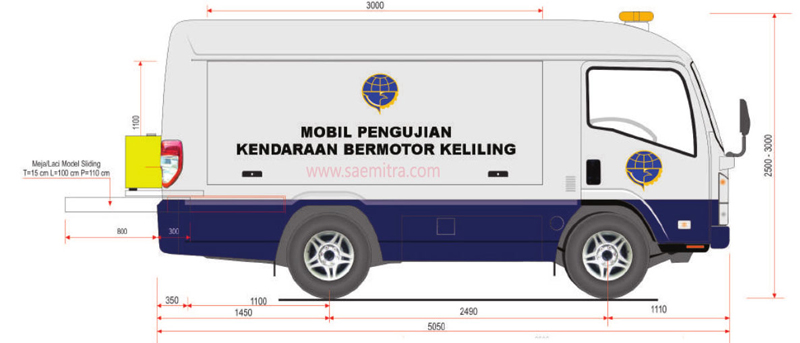 Software Administration :
Mobile Testing Information System which contains administration software for motor vehicle testing. By having staff in the IT field, it makes us more innovative with services that are constantly developing until now.
The software that we offer is simple and easy to use for novice users in the IT world. Where the software can store vehicle data, history, and periodic test results.
Equipment Set :
Portable Truck Scales
Emission Gas Analyser
Diesel Opacity Meter
Portable Brake Meter
Tint Tester
Head Light Tester
Portable Side Slip Tester
Suspension Tester
Brake Fluide
Sound Level Meter
Dot Peen Marking
Under Vehicle Check
Toolkits
PC Windows
Software Admin M-PKB
Slugletter 8mm - 10mm
Generator Setting
Compresor
AC single Blower & AC Split